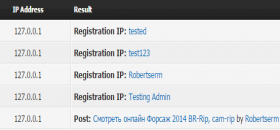 Store Fake IPs
Stores every new IPs as an IP specified in a setting. Also makes it possible to convert all current IPs to it.
Project Details
https://github.com/Destroy666x/MyBB-Store-Fake-IPs
Installation

:
Upload everything from upload folder to your forum root (where index.php, forumdisplay.php etc. are located).

Activate plugin in ACP -> Configuration -> Plugins.

Configure it.

Translations
:
Feel free to submit translation to github in Pull Requests. Also, if you want them to be included on the MyBB mods site, ask me to provide you the contributor status for my project.
Donations
:
Donations will motivate me to work on further MyBB plugins. Feel free to use the button in the ACP Plugins section anytime.
Thanks in advance for any input.
Author

Collaborators

None

Version

1

Submitted

02-08-2015, 03:55 PM

Last Updated

02-08-2015, 04:08 PM

Bug Tracking

External

MyBB Versions

1.8.x
Latest Builds
Similar Projects
No similiar projects have been found.
Support this Project's Development