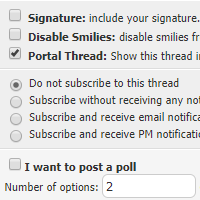 OUGC Show In Portal
Allow moderators to choose what threads to display in the portal.
Project Details
🚀 About
An essential tool empowering forum moderators with enhanced control over thread visibility in the portal landing page. This intuitive plugin allows specific moderator groups to easily mark threads for display in the portal. Users benefit from a 'read more' tag that links to the complete full thread to continue reading and participate in the discussion. Additionally, you will have the option to send private messages or MyAlerts notifications to thread authors, informing them about their thread's status on the portal. With added functionality to filter portal threads by forum and custom moderation tools, this plugin ensures efficient and effective thread management for a dynamic forum experience.
➕ More Information
You can find more information in the plugin
GitHub repository
or the official OUGC.Network
web page
.
Author

Collaborators

None

Version

1.8.36

Submitted

2015-02-15, 03:30 AM

Last Updated

2023-11-20, 10:58 AM

Bug Tracking

External

MyBB Versions

1.8.x