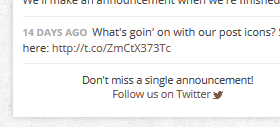 Twitter Feed
Fully customizable Twitter update feed using Twitter API
Project Details
Allows a forum to display a fully customizable Twitter feed featuring a provided user's tweets.
Requires Customer API Key and API Secret to be provided within plugin settings.
The plugin utilizes Mybb's caching feature to avoid latency.  The interval of feed update can be specified in the settings, as well as the number of tweets to be retrieved.
Thread for questions/support can be found here!
http://community.mybb.com/thread-186579.html
Feel free to reach out there or via email and I will answer as best I can

Author

Collaborators

None

Version

1.0

Submitted

2015-10-28, 12:52 AM

Last Updated

2015-11-23, 02:39 AM

Bug Tracking

Disabled

MyBB Versions

1.8.x
Latest Builds