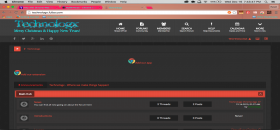 Chrome Extension/App Link
Link to your Chrome Extension/App!
Project Details
With this extension you can either link to a chrome extension or app. You can either have the extension or app hosted on your site or you can link directly to the Google Chrome Store. I know most people don't want to pay the $5 just to upload to the Chrome Webstore with only a limit of 20 uploads. That's why I've decided to create this extension. To change the text from Add our Extension to Add our App you'll have to edit the ChromeExtension.php. If you need any support please use the support link it'll redirect you to my forum for you to create a topic and I'll help you as soon as possible. If you have suggestions to make the plugin better please visit my forum and create a topic and I'll take a look at your ideas and see wether or not I want to add that to the plugin.
This plugin wouldn't been possible without the help of
SvePu
Author

Collaborators

None

Version

1.0

Submitted

2015-12-15, 02:10 AM

Last Updated

2015-12-22, 12:13 AM

Bug Tracking

Open

MyBB Versions

1.8.x
Latest Builds
Support this Project's Development