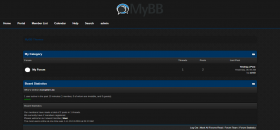 VirtualBlue
Unique, clean, modern, dark blue theme to accommodate any forum.
Project Details
VirtualBlue is my first MyBB theme released for v1.8.*, bringing a modern look to your forums.
Installation
Extract the 'VirtualBlue' folder to your desktop

Go to your root directory of your MyBB files

Open the 'VirtualBlue' folder and move all the files into your MyBB root directory

Change Log:
v.1.1.1 (20th November 2016)
Added
Added styling for Post Classic option

Removed
Changed
Made various parts of the forum darker

tcat changed to a colour background

Tops of each category is more curved

Fixed redirect page background

Fixed star rating images not showing

Guest module has been removed and moved the Login and Register buttons to the navigation

v1.1.0(30th October 2016)
Added
User Profile to Navigation Bar

Removed
Upgrade Tab (Users can input these themselves if they'd like)

More Tab (Users can input these themselves if they'd like)

Profile Display on index page

Changed
Changed the background to a darker tint

Forum Display Headers are now Dark Blue instead of Grey

Forum Display Boy now has a 1px border instead of 3px

Navigation Bottom Border colour is now Dark Blue

Moved all profile information to navigation bar

v1.0(10th March 2016)
Author

Collaborators

None

Version

1.1.1

Submitted

2016-03-10, 08:13 AM

Last Updated

2016-12-07, 05:07 PM

Bug Tracking

Disabled

MyBB Versions

1.8.x
Similar Projects
No similiar projects have been found.