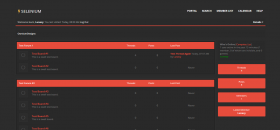 Selenium - Free Dark Minimalistic Theme
A beautifully crafted dark theme.
Project Details
Click here for support
Selenium is a freely available simple, flat, modern, frequently updated  MyBB theme.
- Features -


- No images used outside of the default MyBB Icons and what have you.
- "New" style boardstats.
- Fresh, minimalist design.
- jQuery dropdown user-panel.
- Clean CSS for ease of editting.
- Subtle CSS3 transitions.
- Fantastic loading time.
- Custom footer with sections for additional links and a site description.
- Icons provided by Font-Awesome.
- Fonts provided by Google Fonts.
- Update Log -
Build #2 Updates:
- Removed useless template variables
- Updated footer/board stats
Author

Collaborators

None

Version

1.0

Submitted

2016-04-19, 06:52 PM

Last Updated

2016-04-22, 08:32 PM

Bug Tracking

Disabled

MyBB Versions

1.8.x