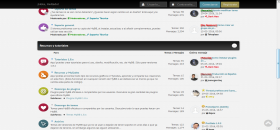 Last poster avatar
Display user formated name and avatar on your forums with a customized popup and style.
Project Details
Displays a new popup windows with user profile info with AJAX technology.

1.- Displays user formated name.
2.- Displays user avatar on threads with owner and lastposter on forumdisplay.
3.- Displays user avatar on index in forum list.
4.- Displays announcements avatar on threalist on forumdisplay.
5.- New popup windows with additional and customizable info for every user profile.
6.- All plugin is customizable and editable for yourself.
7.- You have to ade changes to style as you wish on your forums.
8.- Take moderators and staff on forumlist to make styled usernames.
9.- Shows avatar on private messages.
10.- Shows avatar on portal

Enjoy it !!!

This new version add many features and all options are available to disable/enable every one feature in plugin to use at your own wishes.

And now you can use modals in all your mods to not go to profiles directly preventing to load all page, instead you only load the customizable popup with only usefull information about users. And is a ligh or weight mod if you prefer, you may choose what you need and what you do not. And you can enable /disable plugin with selection on admincp to not deactivate, loose information and more...

Author

Collaborators

None

Version

3.0.5

Submitted

2014-09-04, 02:16 AM

Last Updated

2022-11-13, 10:32 PM

Bug Tracking

Open

MyBB Versions

1.8.x
Support this Project's Development