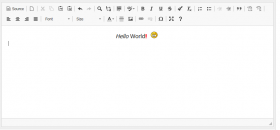 Simple CKEditor for MyBB
Add MyCode Version of CKEditor to your forum
Project Details
It is similar to 
https://community.mybb.com/mods.php?action=view&pid=73
If you want an editor for your forum which has lots of feature, I suggest you to use 
https://community.mybb.com/mods.php?action=view&pid=73
,
But if you want to use a modern, safe and bug-free editor, I suggest you to use this plugin.
In this plugin I try to:
don't change CKEditor core, you can update version of ckeditor easily.

enhance bbcode plugin of CKEditor, I fix its bugs and add all of mycodes to it. (It doesn't support video tag now)

make it as simple as possible.

Support:
Author

Collaborators

None

Version

1.0.0

Submitted

2016-11-21, 02:23 PM

Last Updated

2016-11-21, 02:28 PM

Bug Tracking

External

MyBB Versions

1.8.x
Latest Builds