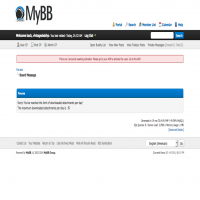 Attachment Downloads Limit Per Day
Allows You To Set A Maximum Attachments Downloads Per Day For UserGroups
Project Details
Limit Attachments Downloads Per Day
Allows You To Set A Maximum Attachments Downloads Per Day For UserGroups
Author:
Mohammad-Za
Submitted:
8th July 2011
Last Updated:
12th July 2011
Updated

10-22-2016, 05:46 AM *
Fixed for 1.8
&
fixed to not drop the rest of misc box
by:
vintagedaddyo
** Due to a few users complaining about the issue of it blocking out the ability to view the  memberlist in frontend or the rest of the misc box items in acp..., I quickly updated it to help those users....
It helps you to set a maximum number of downloading attachments per day for all of your UserGroups.
It doesn't count viewing thumbnails, only the attached files (Except thumbnail images) but when a user reaches the maximum limit it won't let the thumbnails to be shown!
Activation :
1- Upload inc/plugins/at_limit.php
2- Upload inc/languages/at_limit.lang.php
3- Upload inc/languages/admin/at_limit.lang.php
4- Acp --> Plugins --> Limit Attachments Downloads Per Day --> Activate
5- Acp --> Users&Groups --> Groups --> Specified Group --> Miscellaneous (Tab) --> (Last Option) Attachments Download Limit:
Note: Default limit is 5 attachments per day.
DeActivation:
- Acp --> Plugins --> Limit Attachments Downloads Per Day --> DeActivate
- You can also delete it files from server.
Author

Collaborators

None

Version

1.2

Submitted

11-23-2016, 08:17 AM

Last Updated

12-08-2018, 02:59 AM

Bug Tracking

Disabled

MyBB Versions

1.8.x
Support this Project's Development