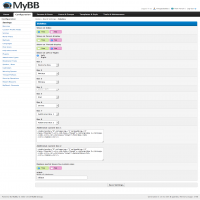 Sidebox
Displays portal boxes throughout the forum
Project Details
Sidebox
Displays portal boxes throughout the forum
Author: Nayar
Submitted: 15th May 2010
Last Updated: 12th May 2014
Features:
1.No template is edited by the plugin leaving your templates intact.(This feature may be disabled in the future)
2.You can choose whether to display the boxes on the left or on the right.
3.You can set the order of for each individual boxes.
4.You get additional boxes for other uses.
5.Choose whether to display on Index,Forumdisplay,showthread.
6.Add the additional boxes to portal also.
7.Order affects portal page also.
8.Set custom width
Basic update for MyBB 1.8.x usage:
Sidebox (1.2.1)
Display portal boxes on your forum
Created by Nayar & updated by Vintagedaddyo
Sidebox (1.2.2)

updated by Vintagedaddyo
* Minor changes to clear up minor install issues
* Further localization support:
-english
-englishgb
-espanol
-french
-italiano
To Install:
Upload The File, And Go to Admin CP And Activate IT!
Author

Collaborators

None

Version

1.2.2

Submitted

12-18-2016, 01:34 AM

Last Updated

12-08-2018, 03:06 AM

Bug Tracking

Disabled

MyBB Versions

1.8.x
Similar Projects
Support this Project's Development