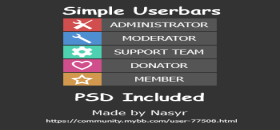 Simple Ranks
Some pretty simple userbars I made.
Project Details
These are some pretty straight forward userbars I made in Photoshop because I was bored.
Userbars in package
Administrator

Moderator

Support Team

Donator

Member

Included in download
PSD with all images

Premade images stated above

Changelog
You can view the full change log here -
link
Support us and get help
- If you come across issues please report them to the bug tracker.
- Any suggestions are appreciated and can be submitted for review.
- If you encounter general problems we'll support you with ease.
- If you like the theme please give it a star to show your support.
Contact Me
Message me on the MyBB Community -
link
Send me a Tweet on Twitter -
link
Add me on Discord: Nasyr#1749
Please note this submission is no longer officially supported.
Author

Collaborators

None

Version

1.0

Submitted

2016-12-23, 01:33 AM

Last Updated

2017-09-30, 09:21 PM

Bug Tracking

Disabled

MyBB Versions

1.8.x