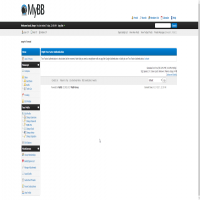 2 Factor Authentication
Allows users to add a second step of security to their accounts.
Project Details
This plugin allows users to use Google Authenticator to add a second level of security to their accounts. This is a great way for people to make sure that if their password is cracked that they still have a security
measure
 in effect to stop a further breach.
This plugin was originally created by Jones H of the MyBB Community forums, he has not worked on a new build in some time and this plugin had some minor bugs. I have since searched for all the bugs and fixed all that I am aware of.
Changelog
You can view the full change log here -
link
Support us and get help
- If you come across issues please report them to the bug tracker.
- Any suggestions are appreciated and can be submitted for review.
- If you encounter general problems we'll support you with ease.
- If you like the theme please give it a star to show your support.
Contact Me
Message me on the MyBB Community -
link
Send me a Tweet on Twitter -
link
Add me on Discord: Nasyr#1749
Author

Collaborators

None

Version

1.2

Submitted

2017-02-17, 12:45 AM

Last Updated

2017-09-30, 09:34 PM

Bug Tracking

Open

MyBB Versions

1.8.x
Similar Projects
Support this Project's Development