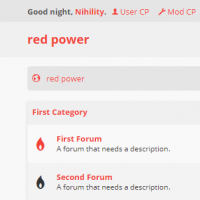 Red Power Theme
Flat designed theme. Simple and fast.
Project Details
An outdated theme that no one cares about but 4 years later all of a sudden I started to deliver updates because I'm terminally bored
Author

Collaborators

None

Version

2.0

Submitted

2017-02-20, 06:21 PM

Last Updated

2021-02-04, 10:17 PM

Bug Tracking

Open

MyBB Versions

1.8.x
Similar Projects
No similiar projects have been found.