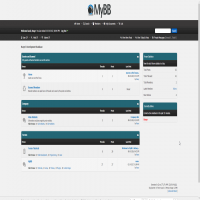 MyBB Basic Theme Upgrade
A basic upgraded version of the stock theme.
Project Details
This is a basic upgraded version of the stock MyBB theme. This theme uses the stock images as well and all paths. The only change required is the logo to be changes. Feel free to edit this theme as you wish but do not remove the MyBB Credit or Credits to
MyBB Hub
.
Changelog
You can view the full change log here -
link
Support us and get help
 - If you come across issues please report them to the bug tracker.
 - Any suggestions are appreciated and can be submitted for review.
 - If you encounter general problems we'll support you with ease.
 - If you like the theme please give it a star to show your support.
Contact Me
Message me on the MyBB Community -
link
Send me a Tweet on Twitter -
link
Add me on Discord: Nasyr#1749
Please note this submission is no longer supported.