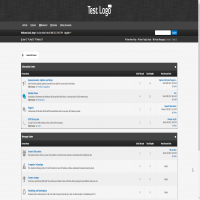 Simple MyBB Theme Variant
A simple variant of the default MyBB theme.
Project Details
About
A very simple light yet affect clean on the eyes MyBB theme, this is a good start to make modifications on. You can use this theme as you please but leave all credits to MyBB and myself in the footer. This theme uses images from the default image folder, keep the original MyBB images. Feel free to edit this theme as you wish but do not remove the MyBB Credit or Credits to me.
Changelog
You can view the full change log here -
link
Support us and get help
 - If you come across issues please report them to the bug tracker.
 - Any suggestions are appreciated and can be submitted for review.
 - If you encounter general problems we'll support you with ease.
 - If you like the theme please give it a star to show your support.
Contact Me
Message me on the MyBB Community -
link
Send me a Tweet on Twitter -
link
Add me on Discord: Nasyr#1749
Author

Collaborators

Version

1.4

Submitted

2017-03-10, 12:40 AM

Last Updated

2017-09-30, 09:34 PM

Bug Tracking

Open

MyBB Versions

1.8.x
Support this Project's Development