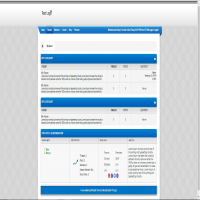 Star Gaming Theme
A beautiful, clean and elegant gaming theme.
Project Details
Advancing Gaming Forums and Communities!
---
Star Gaming Theme is a creation of one beautiful theme for the MyBB 1.8 series for gaming communities.
Keep in mind, this does not have to be for gaming communities!
---
About The Theme
The theme follows a very similar approach as to a very famous forum which is The Tech Game, we have recreated a similar theme from the older version of the forums. Using MyBB we have had the power to override anything and make many new adjustments to the theme.
We are proud to present Star Gaming Theme to the MyBB community to use as they please.
A lovely header area with a spectacular new look and feel to the initial visit for people.

The postbit has been cleared up and statistics have been separated by space.

The board statistics has had a massive improvement to bring a brand new style.

Any signature which is too big will automatically have a scroll bar applied.

Quotes have been blocked up so that if there is too many, they get spoiled.

Show Team page has been revamped to have a new clean style.

Changelog
You can view the full change log here -
link
Support us and get help
 - If you come across issues please report them to the bug tracker.
 - Any suggestions are appreciated and can be submitted for review.
 - If you encounter general problems we'll support you with ease.
 - If you like the theme please give it a star to show your support.
Contact Me
Message me on the MyBB Community -
link
Send me a Tweet on Twitter -
link
Add me on Discord: Nasyr#1749
Author

Collaborators

None

Version

1.0

Submitted

2017-03-18, 09:01 PM

Last Updated

2018-10-15, 07:38 PM

Bug Tracking

Open

MyBB Versions

1.8.x
Latest Builds
Similar Projects
Support this Project's Development