---
Problems after update with buttons and texts - Pato_Lucas18 - 2021-01-21

Hi. I hope you are good!

 I want to ask you if how I can solve the problems with some buttons, options and texts that do not appear after the update.

 Attached images
 The buttons to save the changes made when editing the quick message do not appear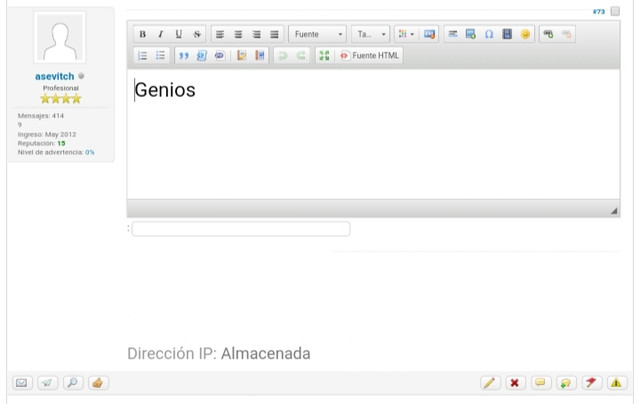 the text box appears to place the reason for editing the message but not the buttons to save


Problems with language options not appearing in the lower right, next to the topic:






MyBB Version 1.8.24
PHP Version 5.6.40
SQL Engine MySQL 10.2.33
Server Load 8.18

Those are the main problems I have with the forum after the update. I have tried the subject in another forum and works well. Maybe the other thing is the problem. I hope you can help. Thank you very much, greetings. (Translation Google Translate)


---
RE: Problems after update with buttons and texts - Omar G. - 2021-01-22

What exactly did you update? The issue in the first image might be related to a plugin, the second picture could be related to your language pack.


---
RE: Problems after update with buttons and texts - Pato_Lucas18 - 2021-01-22

thank you very much for your reply. I already solved it yesterday. one of the problems was language. I reinstalled Spanish and all the missing texts were fixed. and the language options at the end of the page I have changed it from the admin panel


---