Hello,
Website: www.multimart.org
I am currently trying to get the "Online Users" and "Welcome" widget onto my sidebar on the index page. These widgets work/ can be displayed on the portal, though I'm having some trouble doing it on my index.
These are the widgets I'd like to have on the index page: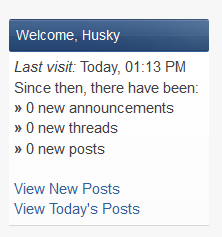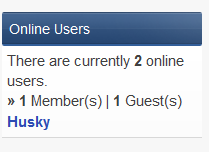 index page code
<html>
<head>
<title>{$mybb->settings['bbname']}</title>
{$headerinclude}
<script type="text/javascript">
<!--
 lang.no_new_posts = "{$lang->no_new_posts}";
 lang.click_mark_read = "{$lang->click_mark_read}";
// -->
</script>
</head>
<body>
{$header}
<div class="side" style="float: right; width: 19%">

<!--<tr>
   <td class="thead">
        Title Here
   </td>
</tr>

<tr>
   <td class="trow2">
    Text Here
   </td>-->
</tr>
</table>
</div>
<div class="forum" style="float: left; width: 80%;">{$forums}</div>
{$boardstats}

<dl class="forum_legend smalltext">
 <dt><img title="Forum Contains New Posts" src="images/custom/on.gif"></img></dt>
 <dd>Forum Contains New Posts</dd>

 <dt><img title="{$lang->no_new_posts}" src="images/custom/off.gif"></img></dt>
 <dd>{$lang->no_new_posts}</dd>

 <dt><img title="{$lang->forum_locked}" src="images/custom/offlock.gif"></img></span></dt>
 <dd>{$lang->forum_locked}</dd>
</dl>
<br class="clear" />
{$footer}
</body>
</html>
---
There is also one other system not working correctly, the private messaging system:

I have no idea how to fix this, but this is the code from the header.
<div id="panel">
<div class="wrap">
{$welcomeblock}
</div></div>
<a name="top" id="top"></a>
<div id="header">
<div class="wrap" style="height: 80px;">
<div class="logo"><a href="{$mybb->settings['bburl']}/index.php"><img src="{$theme['logo']}" alt="{$mybb->settings['bbname']}" title="{$mybb->settings['bbname']}" /></a></div>
<a class="popbox" href="{$mybb->settings['bburl']}/search.php">Advanced SAearch</a>
</div>
</div>
<div id="bridge">
       <div class="wrap">

               <form  class="search_box" action="search.php" method="post">
                       <input name="keywords" class="search_textbox" type="text" value="Search..." onfocus="javascript: if(this.value == 'Search...'){ this.value = ''; }" onblur="javascript: if(this.value==''){this.value='Search...';}">
                       <input name="submit-search" class="button"  type="image" src="images/unn/search_submit.png">
                       <input type="hidden" name="action" value="do_search">
               </form>

<ul class="menu">
<li><a href="{$mybb->settings['bburl']}"><div style="text-align: center;"><span style="color: #FFF; text-shadow: rgb(102, 102, 102) 0px 2px 3px; font-size: 14px;"> <img style="position: relative; top:2px;" src="images/home.png"></img> Home</span></div></a></li>
<li><a href="misc.php?action=payments"><div style="text-align: center;"><span style="color: #FFF; text-shadow: rgb(102, 102, 102) 0px 2px 3px; font-size: 14px;"><img style="position: relative; top:2px;" src="images/donate.png"> Account Upgrade</span></div>
<div style="text-align: center;"><br style="text-shadow: rgb(102, 102, 102) 0px 2px 3px;" />
</div></a></li>
<li><a href="{$mybb->settings['bburl']}/misc.php?action=help"><div style="text-align: center;"><span style="color: #FFF; text-shadow: rgb(102, 102, 102) 0px 2px 3px; font-size: 14px;"> <img style="position: relative; top:2px;" src="images/rules.png"> Help & Rules</span></div></a></li>
                  <li><a href="{$mybb->settings['bburl']}/memberlist.php"><div style="text-align: center;"><span style="color: #FFF; text-shadow: rgb(102, 102, 102) 0px 2px 3px; font-size: 14px;"><img style="position: relative; top:2px;" src="images/member.png"> Members</span></div></a></li>
                  <li><a href="{$mybb->settings['bburl']}/newpoints.php"><div style="text-align: center;"><span style="color: #FFF; text-shadow: rgb(102, 102, 102) 0px 2px 3px; font-size: 14px;"><img style="position: relative; top:2px;" src="images/point.png"> Credits</span></div></a></li>
                  <li><a href="{$mybb->settings['bburl']}/contactus/index.php"><div style="text-align: center;"><span style="color: #FFF; text-shadow: rgb(102, 102, 102) 0px 2px 3px; font-size: 14px;"><img style="position: relative; top:2px;" src="images/email.png"> Contact Us</span></div></a></li>
       </div>
</div>
<!--<div id="bridge2">
       <div class="wrap">
<ul class="menuglob">
                          <li><a href="http://www.universal-gaming.net"><div style="text-align: center;"><span style="color: #FFF; text-shadow: rgb(102, 102, 102) 0px 2px 3px; font-size: 14px;">Universal Gaming</span></div></a></li>
                          <li><a href="http://www.nl-rp.com"><div style="text-align: center;"><span style="color: #FFF; text-shadow: rgb(102, 102, 102) 0px 2px 3px; font-size: 14px;">New Life Roleplay</span></div></a></li>
          <li><a href="#"><div style="text-align: center;"><span style="color: #FFF; text-shadow: rgb(102, 102, 102) 0px 2px 3px; font-size: 14px;">Avovix</span></div></a></li>

</ul>
       </div>
</div> -->
<div class="sep_container">

   <div class="sep_3"></div>
   <div class="sep_4"></div>

</div>
<div id="container">
<div id="content">
{$pm_notice}
{$bannedwarning}
{$bbclosedwarning}
{$unreadreports}
{$pending_joinrequests}
<navigation>
<br />
Kind Regards,
Husky