Hi guys for one reason or another quoting in Private Messages seems to be broken. I've tried a few different things to fix it but to no avail. Tried the default theme too and it gives the exact same issue. Private Messages are coming through like this for some reason.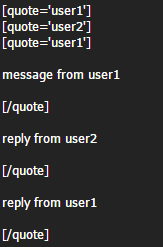 Any ideas on fixing this issue?
Also: For some reason or not it's not displaying the sceditor, just the text field.
The signature does not exisit.