2019-01-06, 06:13 PM (This post was last modified: 2020-10-29, 01:16 PM by HMR. Edited 2 times in total.)
Hello,
After sometimes, I thought of creating a friendly way to decrease ad blockers at my site and came to a conclusion of creating this plugin.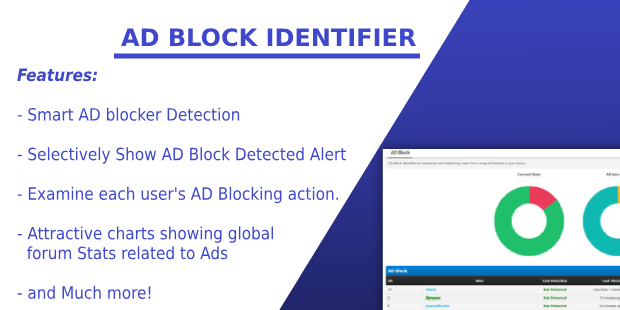 Through this plugin, admins can able to track exactly which users are using Ad Blockers and which are not, along with last used dates.
now admins can either PM them personally or add popup alert to only those users using this plugin by doing few clicks.
it gives easy access to admins to examine each ad blockers more carefully.
Features:
Admins can able to track each ad blocker user.

It comes with attractive charts which shows global records, the record of all forum users, how many are using ad blockers, and how many are not, and how many had ever used it but not currently using ( stopped using ad blockers).

Ability to show ad block alert popup to users selectively (admins can literally choose who should be shown the popups if they ever use ad blockers).

comes with effective ad block detection technique

Have a nice Popup layout ( easy to change that too ).

Popup have both, Dark as well as Light theme to choose from.

and few more

Current Price:

$5
Only per Forum
Payment accepted via Bitcoin or PayPal
Contact:
PM or email:
[email protected]
Previews: