2020-01-21, 03:27 AM (This post was last modified: 2020-01-22, 02:28 AM by User 6029. Edited 8 times in total.)
Have you tried just  "PHP,CODE"    as the description says for that input, select the ones you want
Ie:
Quote:What to hide

Please enter a comma separated list of MyCodes you wish to hide.
PHP,CODE,QUOTE,URL,IMG,EMAIL
Can be any of them or all
Also why not just disable signature viewing for guests? In home > board settings > profile options
Quote:Hide Signatures To Groups
Select the usergroups you wish to hide signatures from.


Select groups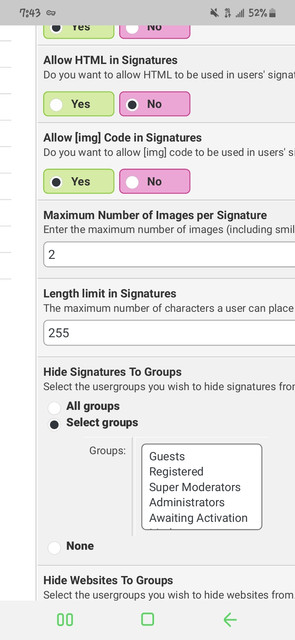 Oh, also you could do something like:
Simple example: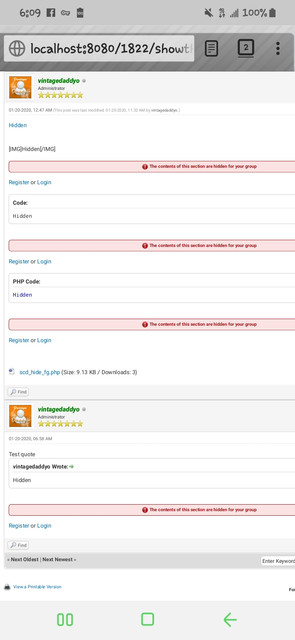 Text to be displayed to the blocked groups.
Hidden
Text to be appended to the end of the hidden text.
<br />
<br />
<div class="red_alert"><img style="vertical-align:middle;" src="images/error.png">&nbsp;<strong>The contents of this section are hidden for your group</strong></div>

<a href="member.php?action=register">Register</a> or <a href="member.php?action=login">Login</a>

Or just for another example:
<br />
<br />
<div class="red_alert"><img style="vertical-align:middle;" src="images/error.png">&nbsp;<strong>The contents of this section are hidden for your group</strong>
<a href="member.php?action=register" style="color:#000;">Register</a> or <a href="member.php?action=login" style="color:#000;">Login</a>
</div>