Saint patricks day is 1 day a year, Thanksgiving is 1 day a year, Valetine is 1 day a year still themes are made for it in my country New Year starts on the 29th of december when shops sell legal fireworks infact the whole December month we set of fireworks illegally infact even I already got some fireworks.

Anyways im just very critical, yah I asked for the the theme and I'm glad he attempted, but I don't like it.
When we think of New Year it should be wine glass, perhaps a bottle that just popped and the top is flying a little bit but you still see it and fireworks pretty palm explosions and flowerballs, not sure if thats the right word we call it oliebollen heres some usefull pictures I guess if it helps.
This are "olliebollen"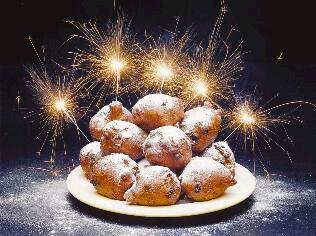 Well hope that helps, sorry but I appreciated your attempt however I don't find that it looks good and with proffesional I mean a more serious board theme with a nice header and bulletins which makes it a nice New Year theme.
`Cheers,
~ Jamie