2012-11-16, 08:48 PM
How can I change all of them from looking like this;

To the default one?..
---
How can I edit everyone's signature at once?.
---
The Rank Image is too big for the postbit but is their a way I can change the size of the whole box to make it a little larger?
Image of the box I'd like to make larger;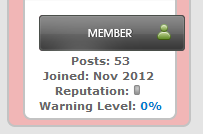 ---
Would I be able to make the member change their avatar/signature ect showing them how to while signing up?
---
I created some sections and added content but decided I don't want the sections anymore and I want to make them into Sub Sections:/
How can I do this?