2014-09-11, 09:30 PM
In version 1.6 I was always able to set the background width to 75% so more of the background would show.
In version 1.8 it doesn't seem to want to work the same way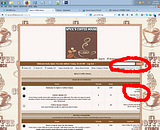 The areas circled in red are the problem. The search box is overlapping and the text in the last post column is cut off. Can anyone please give me an idea of a fix. When everything is set to 90% it's all bueno but some want to be able to have the forum a little narrower.