2020-06-28, 01:53 AM (This post was last modified: 2020-06-28, 01:56 AM by Serpius. Edited 1 time in total.)
(2020-06-02, 10:30 AM)

Laird Wrote: Does MyBB have a future? Well, let's start with the present. A Google search for "Powered by MyBB" comes up with about 4.3 million results. That seems to indicate a pretty solid installation base.

Some of its competitors seem to be doing better judging by this metric, but doesn't the saying go that comparisons are odious? Anyhow, here's that odiousness:

Of course, big caveats apply: we don't know how many of those forums have been abandoned, nor how those figures have changed over time, nor how many of those forums' owners plan to stick with the forum software they're running, nor how many forums are being planned and which forum software they are planned to run on - but this is just a basic attempt to introduce

some

sort of quantification into the discussion, however inadequately.
Does MyBB forum software have a future, most likely YES. MyBB is a great forum software to start out a new website.
One can learn a lot from the different sections of the AdminCP which you can modify your website to fit your agenda.
However, does MyBB have a future in highly advanced and robust user interaction type of website?
NO, unfortunately, MyBB is not designed to be such a thing unless you are willing to devote a TON of time and money to revamp literally the whole code of MyBB. There are less than a handful of websites that have literally taken this route and have done well with it.
One of the major drawbacks (in my opinion) is that MyBB is not conducive to hosting a heavy media based website.
When I say 'media', I'm saying all things visual... photos, graphics, videos, animation, and so on. 
This not even counting all of the MyBB extensions and/or custom extensions to make their website function the way they want it. 
I switched over to Xenforo, not because I hated MyBB, because the future direction of my website required an entirely different forum software and I tested all of the major ones, including vBulletin, InvisionPB, and NodeBB.
I chose Xenforo mainly because Xenforo has functions and features that can be easily implemented into the new direction of my website.
I have hired one of the top-notch website developers who is very knowledgeable of all things Xenforo and he runs his website using Xenforo and produces themes for Xenforo, phpBB, and vBulletin. That means he is an expert in many facets of coding and has produced a few customized add-ons for my website.
Having said all of that, MyBB forum software is GREAT for beginning admins, but not so great for large interactive website. 
Bottom line... MyBB forum software does have a great future AS LONG AS THE DEVELOPERS KEEP ON IMPROVING MyBB. 
Just my 2 cents...
Serpius
Below is a peek preview of what my website landing page will look like. It's NOT the final live version, there is more work that needs to be done.
It is hoped that the newly revamped website will become live around mid-July 2020.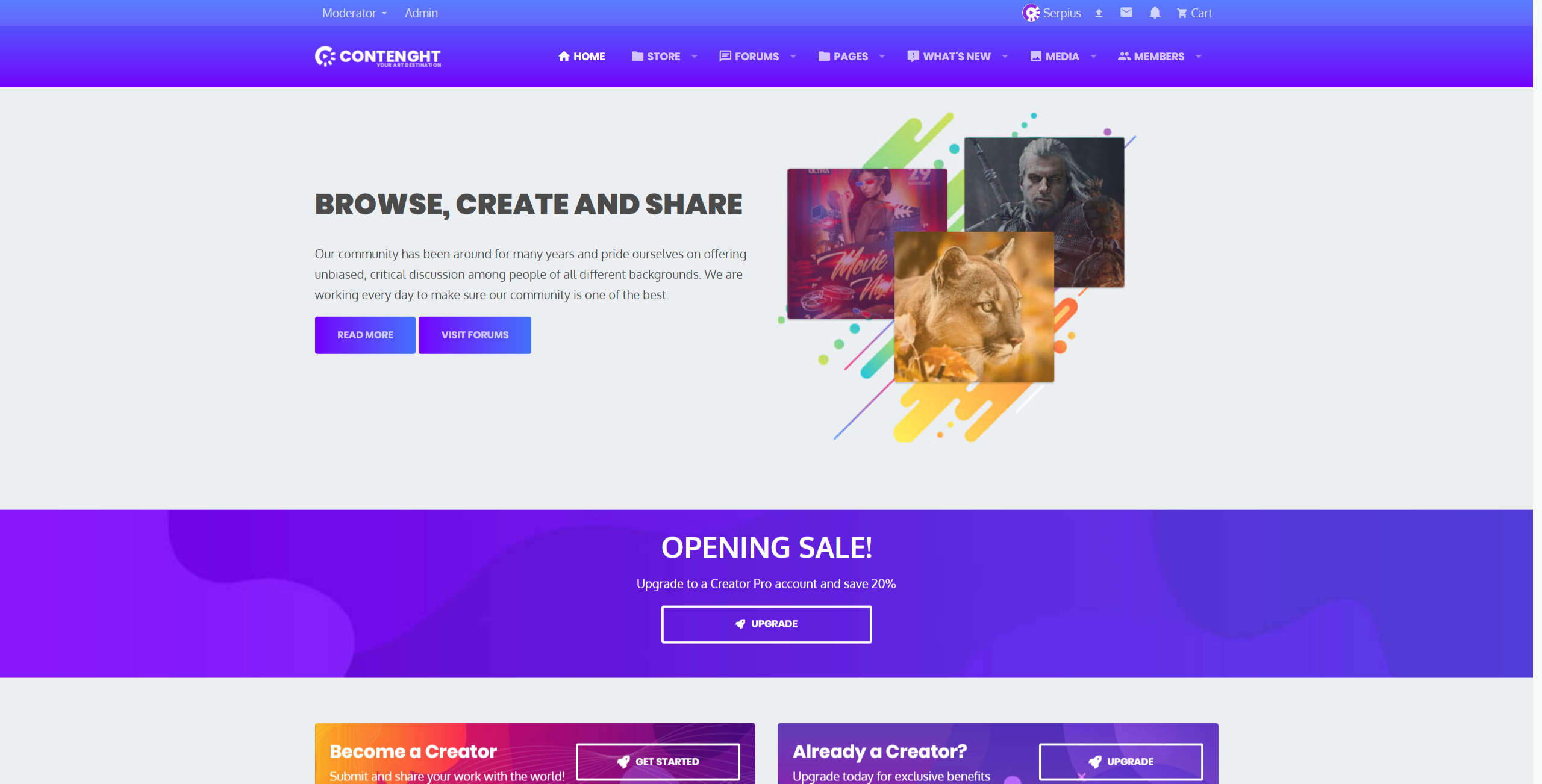 I'm Serpius and You're Not    ¯\_(ツ)_/¯