2018-03-22, 06:49 PM (This post was last modified: 2018-03-22, 06:56 PM by reptiliahosting.)
(2018-03-22, 12:36 PM)

.m. Wrote: MyBB already works with

reCaptcha V2

; which version of MyBB you are using ?
you may have to

regenerate

the

keys

for

reCaptcha V2

& use them at the

settings

.

Edit: looks like you are using other forum system for your support forums !
may be you have come here by mistake ..
Hi, 
I am using MyBB 1.8.15, I use MyBB 1.8.15 on all our forums. 
https://forums.reptiliapost2host.co.uk/
We also host
www.lrrforums.org.uk
and it is the same issues on that one. 
The Keys for reCaptcha is for V2 only as they were only generated last week. 
On another note, I have noticed that if you refresh the signup page or any other page with reCaptcha error it will sometimes show the correct image.
---
(2018-03-22, 04:00 PM)

Daniel1 Wrote: I think what he means is, for me to register for the mybb community (That's this forum), I got the text that v1 would stop being supported message as the capcha.. Infact I didn't fill out a capcha at all and was still able to register with no errors.
The bug I posted was not for this Forum but, yes I to noticed the error when I entered my password incorrect on this forum. The page reloaded with a ReCaptcha with the V1 error.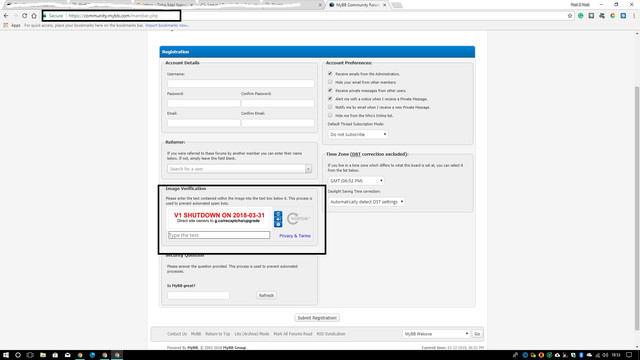 I am sure it is a MyBB issue considering its happening on here too, but with that error it should not be allowing you to register even with the error it defies the purpose of ReCaptcha.