Hi, I have problem with fake accounts. Every day there's fake accounts who I do not approve (spammers) so i need a tool to delete them. It takes much time to delete id manual one by one, is there way to select them and delete with one click? I had searched plug-ins and did't find something to help me.
You can see how it's look like: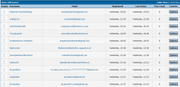 Second problem is the message who appears after log in who says: '' The maximum server load has been reached. Please check back later once server is less busy.''
That's is appears only to users, not admins. That's appears only on my forum (
www.mcmarshal.com
) and there's two more mybb forums on same server who working fine (
www.akcrankshaft.com/forum/
and
http://www.livadabl.com/index.php
).
MyBB 1.4.9 is the one we use.