2013-05-18, 06:41 PM (This post was last modified: 2013-05-18, 06:41 PM by californication.)
Hello,
Since today I'm not able to click the blue field "Options" ANYWHERE in the AdminCP.
Yes I tried different browsers, deleted all my cache & cookies with CCleaner. I even tried to click it from a friends PC, nothing happens.
Some pictures for understanding.
(This is not clickable anymore)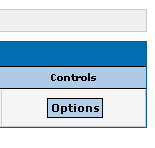 When I'm hovering the button this code shows up.
Please I really need help!