2014-03-30, 07:12 AM
I would really like to make my profile on my MyBB forum look like this SMF forum has: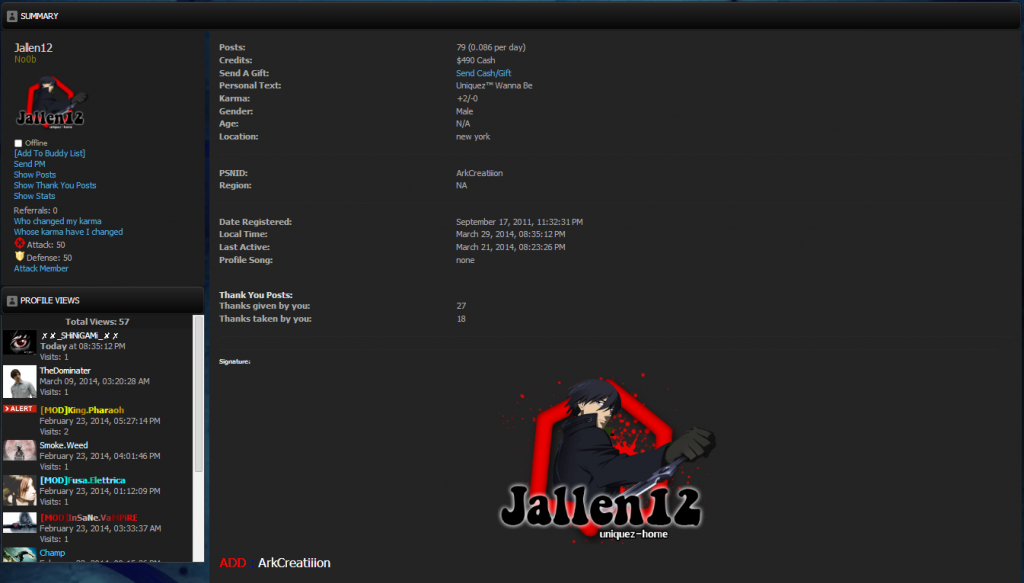 Does anyone know how I can do this?
Here's what I have in my member_profile template:
<html>
<head>
<title>{$mybb->settings['bbname']} - {$lang->profile}</title>
{$headerinclude}
</head>
<body>
{$header}
<table border="0" cellspacing="{$theme['borderwidth']}" cellpadding="{$theme['tablespace']}" class="tborder">
<tr>
<td class="trow1">
<table width="100%" cellspacing="0" cellpadding="0" border="0"><tr><td class="trow1" width="75%">
<span class="largetext"><strong>{$formattedname}</strong></span><br />
<span class="smalltext">
({$usertitle})<br />
{$groupimage}
{$userstars}<br />
<br />
<strong>{$lang->registration_date}</strong> {$memregdate}<br />
<strong>{$lang->date_of_birth}</strong> {$membday} {$membdayage}<br />
<strong>{$lang->local_time}</strong> {$localtime}<br />
<strong>{$lang->postbit_status}</strong> {$online_status}
</span>
</td><td width="25%" align="left" valign="middle">{$avatar}</td></tr></table>
</td>
</tr>
{$awaybit}
</table>
<br />
<table width="100%" cellspacing="0" cellpadding="0" border="0" align="center">
<tr>
<td width="50%" valign="top">
<table border="0" cellspacing="{$theme['borderwidth']}" cellpadding="{$theme['tablespace']}" class="tborder">
<tr>
<td colspan="2" class="thead"><strong>{$lang->users_forum_info}</strong></td>
</tr>
<tr>
<td class="trow1"><strong>{$lang->joined}</strong></td>
<td class="trow1">{$memregdate}</td>
</tr>
<tr>
<td class="trow2"><strong>{$lang->lastvisit}</strong></td>
<td class="trow2">{$memlastvisitdate} {$memlastvisittime}</td>
</tr>
<tr>
<td class="trow1"><strong>{$lang->total_posts}</strong></td>
<td class="trow1">{$memprofile['postnum']} ({$lang->ppd_percent_total})<br /><span class="smalltext">(<a href="search.php?action=finduserthreads&amp;uid={$uid}">{$lang->find_threads}</a> &mdash; <a href="search.php?action=finduser&amp;uid={$uid}">{$lang->find_posts}</a>)</span></td>
</tr>
<tr>
<td class="trow2"><strong>{$lang->timeonline}</strong></td>
<td class="trow2">{$timeonline}</td>
</tr>
{$referrals}
{$reputation}
{$warning_level}
</table>
<br />
<table border="0" cellspacing="{$theme['borderwidth']}" cellpadding="{$theme['tablespace']}" class="tborder">
<tr>
<td colspan="2" class="thead"><strong>{$lang->users_contact_details}</strong></td>
</tr>
<tr>
<td class="trow1" width="40%"><strong>{$lang->homepage}</strong></td>
<td class="trow1">{$website}</td>
</tr>
{$sendemail}
<tr>
<td class="{$bgcolors['pm']}"><strong>{$lang->pm}</strong></td>
<td class="{$bgcolors['pm']}"><a href="private.php?action=send&amp;uid={$memprofile['uid']}">{$lang->send_pm}</a></td>
</tr>
<tr>
<td class="{$bgcolors['icq']}"><strong>{$lang->icq_number}</strong></td>
<td class="{$bgcolors['icq']}">{$memprofile['icq']}</td>
</tr>
<tr>
<td class="{$bgcolors['aim']}"><strong>{$lang->aim_screenname}</strong></td>
<td class="{$bgcolors['aim']}"><a href="javascript:;" onclick="MyBB.popupWindow('misc.php?action=imcenter&amp;imtype=aim&amp;uid={$uid}', 'imcenter', 450, 300);">{$memprofile['aim']}</a></td>
</tr>
<tr>
<td class="{$bgcolors['yahoo']}"><strong>{$lang->yahoo_id}</strong></td>
<td class="{$bgcolors['yahoo']}"><a href="javascript:;" onclick="MyBB.popupWindow('misc.php?action=imcenter&amp;imtype=yahoo&amp;uid={$uid}', 'imcenter', 450, 300);">{$memprofile['yahoo']}</a></td>
</tr>
<tr>
<td class="{$bgcolors['msn']}"><strong>{$lang->msn}</strong></td>
<td class="{$bgcolors['msn']}"><a href="javascript:;" onclick="MyBB.popupWindow('misc.php?action=imcenter&amp;imtype=msn&amp;uid={$uid}', 'imcenter', 450, 300);">{$memprofile['msn']}</a></td>
</tr>
</table>
</td>
<td><img src="{$theme['imgdir']}/pixel.gif" height="1" width="8" alt=""/></td>
<td width="50%" valign="top">
{$profilefields}
{$signature}
{$modoptions}
{$adminoptions}
{$buddy_options}
</td>
</tr>
</table>
{$footer}
</body>
</html>

If anyone could help recreate this but for MyBB I would appreciate it A LOT! I've been making my theme all day and this really has me stuck.. I will of course edit it a bit though. Thanks in advance!