Howdy MyBB Community, I'm a long time user but first time poster, I'm having some trouble with repositioning the order in which information appears in the forum Display, it's been a stubborn little bugger and I finally throw my arms in the air to ask for help. Needless to say, my keyboard did not approve. 
Anyway, I'm attempting to get the information under the last post column to display a little more inline. I'll be sure to post pictures of what I mean.
This is the current view, which I've set to float left.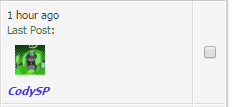 And this is what I'm hoping to do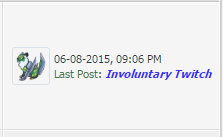 Any help would be super appreciated!
Thanks again,
Cody