2017-01-01, 09:47 PM
This isn't really a general support thread more for like my own curiosity. I seen a forum which has the currently online hidden, similar to a spoiler, you click it and it'll show you who is online.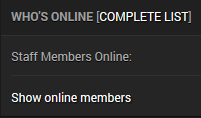 Anybody got any ideas? I tried a few things and came to no joy a while back. Still really curious on this matter.
Check out all my submissions here - 
click me
MyBB support at it's finest.