(2018-08-24, 10:16 PM)

Devilshakerz Wrote:

1.1.0

:

added HTML escaping for unified differential

enabled fetching custom checksums files

fixed missing language string issues

minor visual corrections

minor code quality corrections





-----BEGIN PGP SIGNATURE-----

iQEzBAABCgAdFiEE346WhYk6su6vogTe4v2sXM44p30FAluAgh8ACgkQ4v2sXM44
p33NQAf+LbiivQK0foB1Dc5pLGNFbbyDl/319mWsh5gVbCZEXzfqpZjYhuKftb8O
34gFLSXQ5wwL7Eu9ZbzLrIUEgcl+W9f6UCdXIy0S7D7zlCCDe8HyTS9bpfN593F1
sufiCIe/C8HuqxLp+IEBYiQNSlqkvu/yqwgKRMcLQivj083pHybQUjhnROVpuytO
YIeXcHzJYh0lzld3fk4kHnWiMSPrdJYiJLfSv2YrHmBmkGofV0If9Tm6rcMgRjRs
gmZ8097u4CPmZPGN0ODAFrFt0NHPlhCnttu5unUNAgNRVdxYRP5CzJ8bgzhta/jc
OhqdVerYOxMlwqXI6CE2xQ6txJHKVA==
=8OVI
-----END PGP SIGNATURE-----




https://community.mybb.com/mods.php?acti...0&bid=3321
I've installed the plugin and it runs great.
Except for one issue. I don't know if I can call it a bug or something else.
Is the Integrity Tools limited to ONE Super Admin? 
I have a 2nd Admin for my website and he is designated as Super Admin (in config.php), but he has no permissions for the Integrity Tools plugin in the Tools & Maintenance section.
You can clearly see he's in as 0xB9, but he's denied due to the permissions issue because the AdminCP does not see him as a Super Admin, even though he is.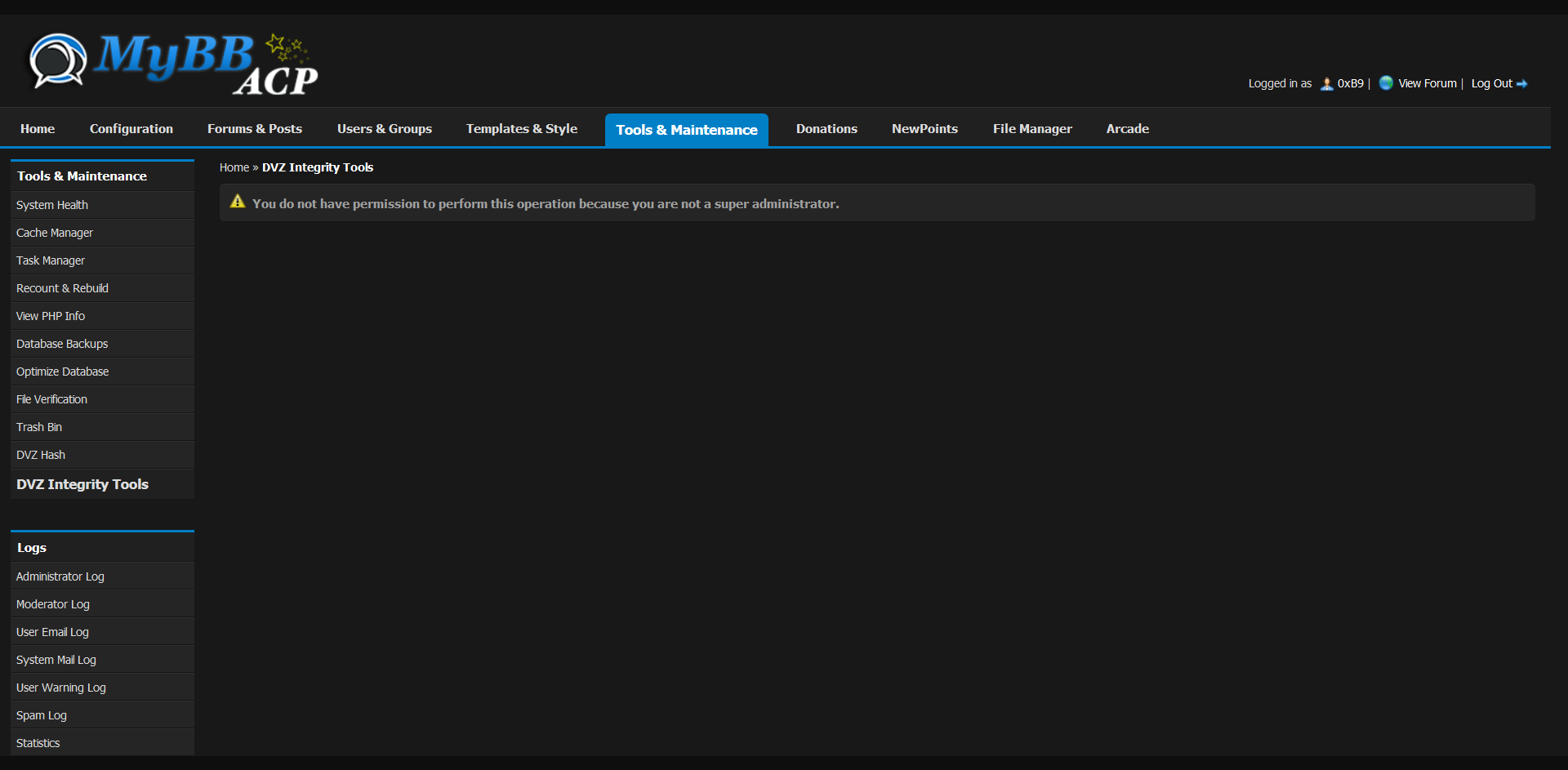 I'm Serpius and You're Not    ¯\_(ツ)_/¯