2018-04-11, 11:27 AM
Hello everyone!
Thanks for your time. I'm having an issue where the [ img ] [ /img ] code is not working on the account-profile view.
You can see an example here:
Link
- click on the second tab, "B'jin's Profile".
You will notice that the image isn't appearing, and is instead coming up as: [Image:
https://imgur.com/qykLJD1.png
]
Some screen shots;
This is the settings for that particular custom profile field.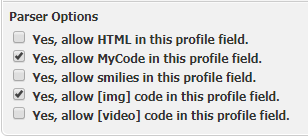 This is how it is parsing. 

The images show up when viewed in the
default layout -
for some reason they just aren't working on the Flatty theme, and I am unsure where to go or how to fix this
Any help would be spectacular!
Thank you!