2018-09-03, 11:46 PM
Well, I accidentally refreshed this page so lost everything so now im kind of annoyed xD. Either way im using the latest version of the "Cerise" theme but I get these broken icons on the index page, which I managed to fix my myself by editing the index stylesheet. but i don't know where to edit this one.
The fixed icon on the index page looks like this now which is what I wanted

but when I have a locked forum it comes up with this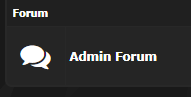 I can manually fix it with the chrome develop menu by changing this

to this

just by changing "forum_offclose" to "forum_offlock" and the "mark_read ficons_2" to "mark_read ficons_1".
I hope someone can help me with this, thanks