2019-08-25, 08:46 AM (This post was last modified: 2019-08-25, 08:56 AM by JWhy. Edited 1 time in total.)
Hello,
I recently upgraded myBB from 1.8.14 to 1.8.21 (full upgrade)
Everything seems fine, except for the "Export Private Messages" feature when selecting HTML format => CSS is not applied (see below , before/after upgrading)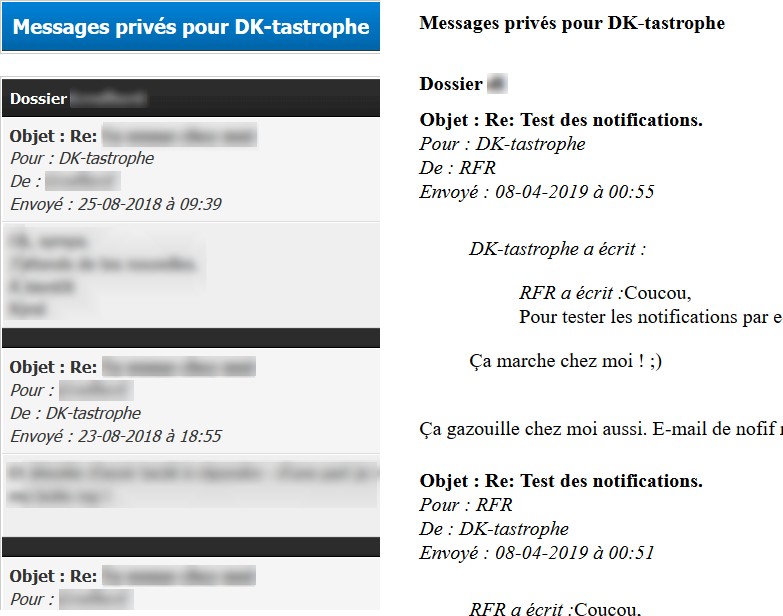 (screenshot from a 1.8.14 -> 1.8.20 upgrade on a test environment, with the same issue)
I tried to analyse the php code used to display this page and found in "private.php" the following code :
$query = $db->simple_select("themestylesheets", "stylesheet", "sid = '1'", array('limit' => 1)); 
So it tries to retrieve the CSS with SID=1 in the
themestylesheets
table
Problem:
before upgrading, this SID exists. After upgrading, it doesn't any more  (see below: diff before/after upgrading) :

Putting back the previous SID values fixes this issue, but I wonder if there could be any other side-effects,  or if this could be a bug in the upgrade process and/or in myBB code (SID column is auto_increment and the upgrade process seems to delete/insert rows in this table) ... or if there is something wrong with my installation from the start 

Thank you for your help,
JY.