So I installed the theme Simplicity, and at the bottom there is no theme picker. I have Simplicity Dark and Light.
I want to add a theme switcher so my users can switch between dark and light easily without going to the user cp.
How do I add the theme switcher to the theme?
Please help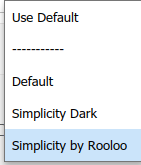 ---
Oh also, if this is not possible, is there a
FREE
plugin that does this?