2005-07-27, 08:57 PM (This post was last modified: 2006-01-12, 01:35 PM by Chris Boulton.)
MyBB RC4 Installer Guide
FOR CPANEL X USERS
Requirements:
PHP Server
MySQL Server
cPanel 10.
Steps:
1)Upload the whole uploads directory to where ever your forums will be.
2)Open cPanel (normaly located at
http://www.yoursite.com:2082
) and look for this thumbnail:

Click on it.
3)You should now be at a page that looks like this: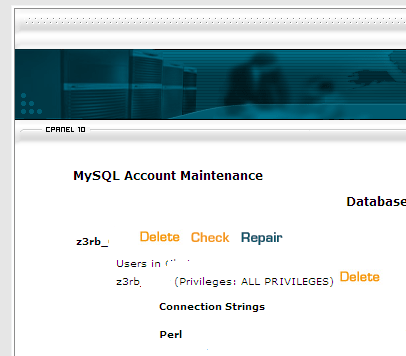 (I have removed any information from this screenshot that might be a sequrity risk to my site)
Scroll down untill you see this:

Into this box, type "MyBB" (Without the quotes of course

) and press "Add Db"
Well done! you've made an SQL DB.
Click "Go back"
4)Scroll down again untill you see this:

In the top box type "MyBBUser" and in the bottom type a password
(Remember this password!!! you will NOT be able to find it out again.)
Press "add user"
press "go back" again.
5)Scroll down again untill you see this: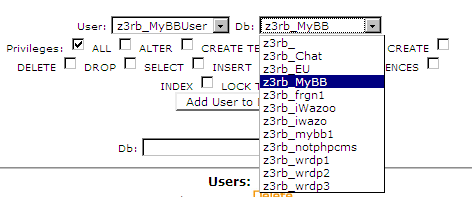 and put in the first one box "MyBB" and the second "MyBBUser"
and select ALL Privelages.
Press "add user to db".
6) By this piont, you shouold have uploaded your copy of MyBB to the directory of choice, for more information on FTP, contact your FTP client's official suport or a forum made for webmasters (i recomend
wm-talk
)
7) Once you have uploaded it (see step 6

) go to "the_directory_you_uploaded_to/install/index.php"
My connection is being an lime. i will complete this tutorial once MyBB has finnished uploading
PLEASE GIVE POSITIVE REP

Once i get time, i will write a tutorial for sqlMyAdmin users