Futuira Ranks set[envira]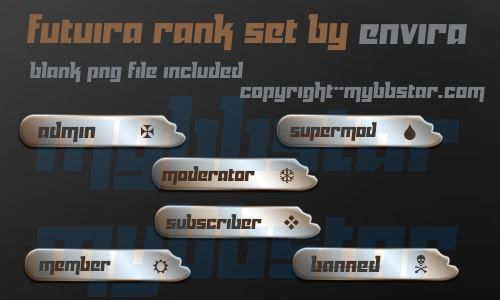 This is a brand new futuristic rank set designed with lot of time and precision,called "
Futuira
"
This is a brownish silver (sepia) rank set,with 7 images included,including a blank png for you to edit.
Rank Images Text
1.Admin
2.Super Mod
3.Moderator
4.Subscriber
5.Member
6.Banned
&.blank png ile
The font used is,yukari mobile....hope you like these set.
Hope you like these ranks.
Note:
These Images are licensed under creative common license.
You can use it for personal purposes,you cannot redistribute,or sell it to any one.
Download:
mods database
external (author site)