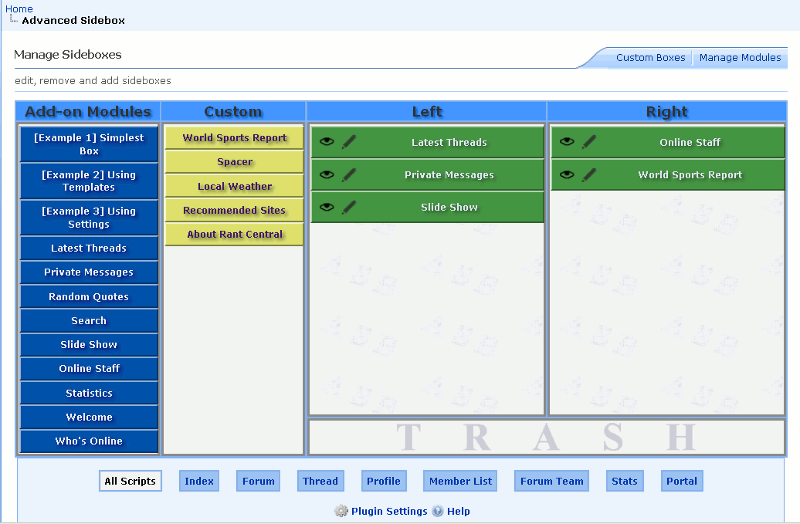 Advanced Sidebox (ASB for the lazy :p) allows admins to freely design side boxes for the forum in an intuitive and powerful way. Built over time with the advice of too many of its users to name, ASB has become the optimal solution for managing side boxes with the MyBB forum system.
Features:
create an unlimited amount of side boxes

side boxes on left, right or both

create and save side boxes with custom HTML

add side boxes to almost any page

control which user group(s) the side boxes display for

control which script(s) the side boxes display in

control which theme(s) the side boxes display on

ACP drag and drop interface

JavaScript visibility toggle icons for columns (uses cookies to remember states)

easily create advertisement spots

side boxes expand/collapse just like the MyBB core windows

ability to disable the plugin for specific themes

intuitive side box management page in ACP

import/export custom side boxes to XML to backup, restore and share

option for users to individually disable side boxes but can be disabled

context-sensitive help pages in ACP

extensible from single file modules

CodePress supported when editing custom side boxes (if enabled in ACP)

compatible with

Page Manager

pages and custom scripts


AJAX Update

integrated into the core and six of the core modules! (listed below)

Current side box types available:
Top Poster

Slideshow

Recent Posts

Who's Online

Latest Threads

Welcome

Statistics

Private Messages

Search

Random Quotes

Staff Online

You can also create your own custom box types with static content


My forum has used this plugin since late 2011, although it has been in various stages of development at different times and I don't always use the latest version. It is stable and has shown only small issues that I have tried to fix as I've noticed.
Resources:
Support
I make no guarantees of support but I will always try.
For help with Installation and Upgrades look here:
https://github.com/WildcardSearch/Advanc...stallation
Bugs/Issues
Please report any problems found at the GitHub repository for this project, in this thread or in a new thread on MyBB Community Forums. Although I will answer questions at my own forum, I prefer not to.
https://github.com/WildcardSearch/Advanced-Sidebox
Extensibility
This plugin uses single file modules to define different box types and developers can create custom box types for the Admin to use easily.
See:
Advanced Sidebox Extensibility Reference
Third Party Addons
A list is maintained here of any modules created by users or any MyBB plugins that integrate with ASB:
https://github.com/WildcardSearch/Advanc...iki/Addons
Make Advanced Sidebox Better!
Feel free to add advice or feedback. Go to
GitHub
and collaborate. Help and advice is welcome.

Screen Shots:
ACP
UCP
FORUM